CCSD59 Students Shine at 3rd Annual D59's Got Talent Show
A yo-yo artist. A ukulele player with an original piece of music. A karate demonstrator. A pianist. A gymnast. A ballerina. A cup-stacking magician. And many others. All from different schools, of varying ages, genders, ethnicities, and backgrounds.
What do they have in common? They are all CCSD59 students, they all have talent, and they all made their schools, families, and friends incredibly proud at the third annual D59's Got Talent Show, held on April 8 at Harper College in Palatine.
"I was so proud of all of our students," said CCSD59 Board Member Sharon Roberts. "Each one of them not only showcased his or her individual talents but performed on stage with such confidence. I already can't wait for next year's performance."
The show, once again sponsored by the D59 Education Foundation, showed the amazing collaboration of effort between the foundation, the schools, the teachers, current and former students, parents and families, and generous community partners.
"District 59 students and families are so fortunate to have the support of the foundation," commented Superintendent of Schools Dr. Art Fessler. "The District 59's Got Talent show is just one great example of an event that brings our community together, showcases the awesome talents of our students, and benefits the students and staff tremendously. I've become more and more impressed by the amazing things that our kids learn and do every year."
All proceeds from the event will be used by the foundation to fund grant requests, which directly benefit the district's students. CCSD59 Board President Barbara Somogyi said, "With the help of the staff, the D59 Education Foundation continues to put the proceeds back into our classrooms."From a huge pool of talent representing the best of the best at every school, the top three finalists were:
1st Place – Claire Moon, 4th grader at Juliette Low, played "Sonata in C Major" by Mozart on piano
2nd Place – Denisa Rusz, 2nd grader at Brentwood, performed a gymnast routine
3rd Place – Isabel Skrabanek, 4th grader at Devonshire, played "Fur Elise" by Beethoven on piano
This year, for the first time, all three of the finalists were from elementary schools.
Susan Ejma, principal at Juliette Low, was absolutely thrilled. "We are so proud of Claire for winning first place in the show," she said. "All of the students up on that stage showed us what creativity and having perseverance really looks like."
The show not only showcased the talents of the students on stage, but also off the stage as well. The beautiful artistry of students who donated their original art pieces to raise money at the event was on display as well. This year, there were three canvas paintings and digital photography submissions for the first time. The ELC painting, themed "We Stick Together", not only had the perfect message for the night, but was completely made by students aged 3 to 5 years.
The stunning outpouring of time, money, and effort is also something apparent at the event. From former students acting as emcees, to local high school students assisting with set-up, to community partners making large donations for raffle gift baskets and participant "swag bags", the event is a true testament of caring and concern for CCSD59 students.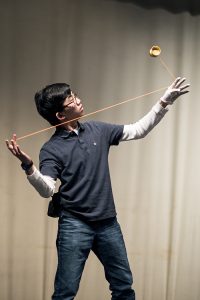 As is the case every year, one of the highlights of the event is the excitement and camaraderie provided by the students themselves. Wilkins-Scott spoke highly of both the students and the spirit of the show:
"My favorite place to be during the show is backstage. I get to peek through the curtain opening and watch the kids watching each other perform, I get to see them reacting to their fellow performers, I get to see them complimenting and congratulating each other, examining each others' medals and holding their own medals in their hands. I get to see the other performers giving two thumbs up to both to their friends and students from other schools. These are the best moments of the show, and I am lucky to see them from my vantage point. These are the moments these kids will remember long after the show is over."
Now, as the show has concluded for another year, Wilkins-Scott also sends out this very important message as a fantastic final act to the show: "The grant cycle starts in the fall. Teachers, start dreaming!"