John Jay Students and Staff Host Golden Anniversary Celebration
On Wednesday, May 9, CCSD59 celebrated another Golden Anniversary, this time at John Jay Elementary school. Students and their families, former and current administrators, staff, community members, and Mount Prospect's Officer Friendly all attended the open house.
Rose Kelly, office manager at Jay, said she really enjoyed seeing guests interacting. "It was wonderful connecting with alumni who are now all grown up but remember something we did together while they were here at Jay."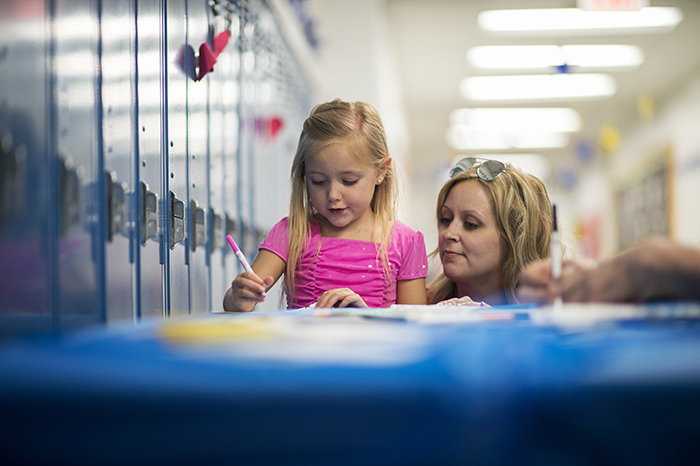 Upon entering, guests were encouraged to write well wishes to the school on a special star-themed note card and pin it up on the "Wish Upon a Star" bulletin board.
Two comparison classrooms were set up as "then and now", which modeled an older, traditional classroom setting in one and a more modern, contemporary classroom in the other. Students could be heard explaining to their parents and family members what features they enjoy best in their own classrooms.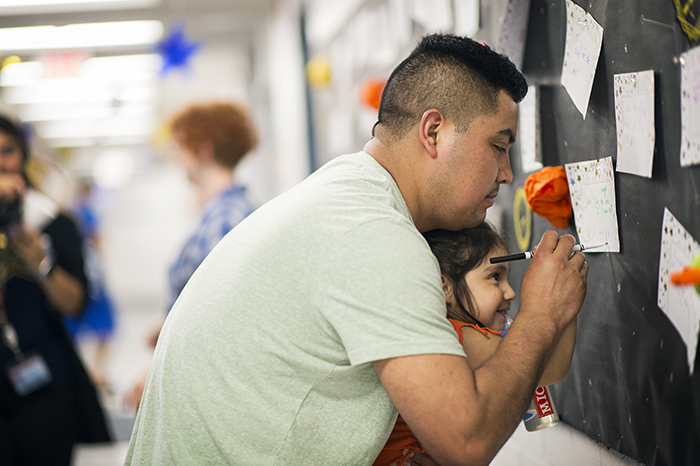 Yearbooks for many former years were put out on display, and guests could be spotted delightedly pointing out their own photos to their groups.
The school was filled with "50" projects to honor the special day, and an impressive timeline created by the students focused on historical events from 1967 to the current day.
"The kids really did their homework by providing a timeline of national and local John Jay events over the past 50 years," said Sharon Roberts, a CCSD59 board member who attended the event. "My favorite poster was the '50 Ways to Make 50' math poster – the kids truly came up with creative mathematical formulas to equal 50."
The John Jay Parent Teacher Organization (PTO) greeted guests enthusiastically who came to have some refreshments and cake.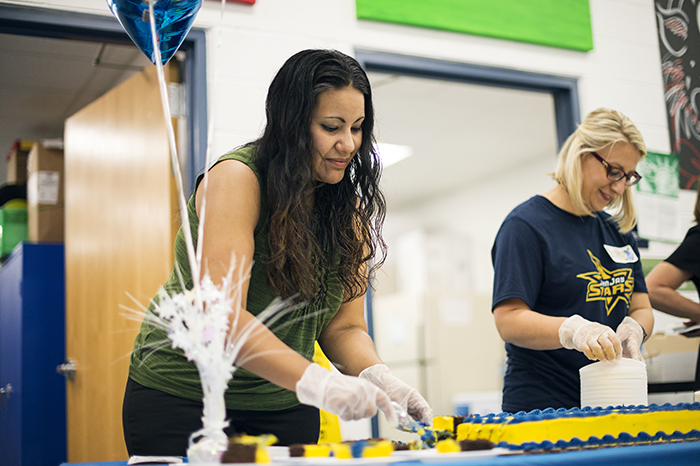 One of the definite highlights of the event was the unveiling of Jay's 25-year old time capsule, which took place in the packed gymnasium. Among the many items included in the 25-year old capsule were newspapers, TV guides, books the students had read, notes from Talent Development Program (TDP) students, a comb, a computer floppy disc, a baseball card, a homework assignment sheet, and a Championship hat from the Chicago Bulls.
"It was very special for our PTO moms, both former and current, to unveil the time capsule as well as create a new one for the future," said Laura Sandoval, principal of John Jay. "The students were very excited and amazed to see all of the interesting items in the capsule."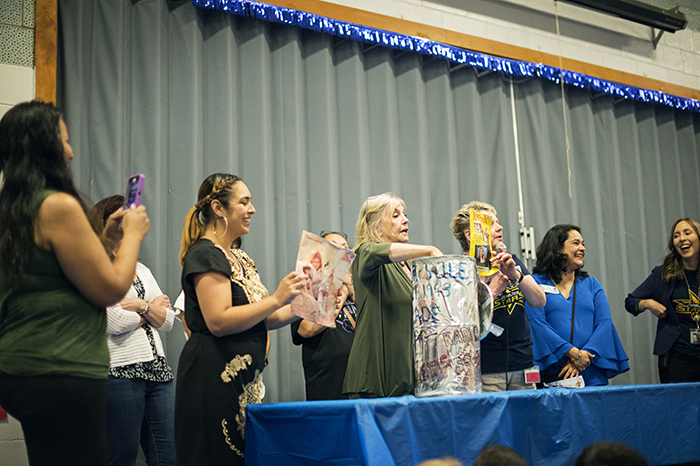 Students helped create the next 25-year time capsule for future students, families, and community members to enjoy, possibly at Jay's 75th anniversary.
After carefully thinking it over, students had chosen items for the new time capsule: letters about John Jay and their favorite things about being a student, a cell phone, a current year book, some toys, books, and many other selections relevant to the present day.
Sandoval said it truly was a celebration of Jay throughout the years.
"Bringing the community together, and inviting them to walk through our beautiful school as they recalled priceless memories of being a student, staff member, or administrator at John Jay School, was a really proud moment for us all to share together," she said.